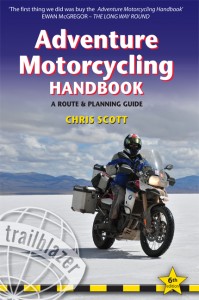 It did not take a lot of googling to find out that anyone who is looking to plunge themselves into remove corners of the world on a motorcycle should read precisely this book.  So it is almost the first thing I did.
Almost the first thing because I actually bought my bike first, a used BMW F650 GS from 2000.  I was satisfied to read that this is one of the ten bikes Chris recommends as being acceptable transport for adventuring in remote corners of the world.  Jerome's Yamaha XT660Z is another.
The book really seems to cover everything one would want to know, including preparation, gear, visas, camping, 'roadsmarts', and recommended routes all over the world.  It is a great read.